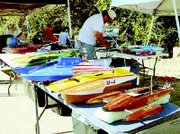 GRANGER - Starting Sunday, April 22, and every second and fourth Sunday from then through September, miniature radio-controlled hydro boats will hit the pond at Granger's Hisey Park.
The season culminates with the third annual Granger Cup set for Sunday, Aug. 26.
Pat Barr of Prosser heads the local hydro boat group, known as Central Washington Radio Controlled Boats.
"Granger's so nice because they have a perfect layout with that pond," Barr said of the locale. "The city works with us and lets us leave our buoys up." He laughed then added, "A (radio control boat) group from Seattle can't believe the location. They say we're spoiled."
The Central Washington group has members ranging from Yakima to the Tri-Cities. "Anyone can join," Barr said.
Many of the mini-hydro owners pattern their petite fleet after actual hydroplane racing boats.
You can include Barr in that group.
"Mine is the Flamingo, modeled after a Circus Circus boat that raced in 1989," he says.
Last year's Granger Cup drew 30 radio controlled boat owners and 70 boats, some from as far away as Montana and British Columbia. The event ran from about 9 a.m. to 3 p.m.
In preparation for this year's cup, the Central Washington group will have practice runs from 9 a.m. to noon this and the next two Saturdays. On the fourth Sunday of this month, April 22, the group will hold its first race of the 2007 season. Races, all running from 9 a.m. to noon, will be held the second and fourth Sundays from then through the end of September.
As far as the big one, the Granger Cup, Barr said the Central Washington and Seattle boats will likely compete in different heats because the Seattle boats are generally electric-powered. The Central Washington boats are for the most part powered by nitro.
But whatever the power source, Barr says with a chuckle to bring them on. After all, the Central Washington group will have had all spring and summer to get re-acquainted with the Granger pond.
"I guess you could say we have home pond advantage!" he laughed.