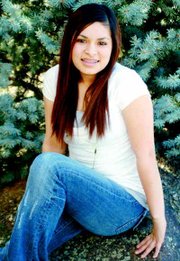 Alejandra Bobadilla has an anti-drug, anti-alcohol message, and she's hoping the title of Miss Cinco de Mayo can help further it.
The 17-year-old Sunnyside High School junior, one of eight young ladies who will compete for the 2007-08 title, is a participant in the school's leadership class and returned earlier this year from a week in Washington D.C. with the class.
The week in D.C. focused on an anti-drug, anti-alcohol conference. Since then, she and the other seven members of the D.C. team have been planning for activities to help fight drug use and underage drinking.
If named Miss Cinco de Mayo, Bobadilla said she would like to take the effort against under-age drinking "to the next level".
She adds, "I want to include parents in the discussion." Bi-lingual, Bobadilla said she would like to work through local churches and other organizations to reach out to both parents and youth.
Bobadilla is also active in other areas of the school and community as a member of the cheer squad, leadership club, the pep club, math club, link crew and is class treasurer.
Away from school she volunteers her time working as a secretary and teaches young children at St. Joseph's Church. After high school she would like to attend a four-year university, possibly studying advertising at the University of Washington.
Bobadilla's efforts have not gone unnoticed as she was named an "outstanding youth" during last month's Sunnyside Chamber of Commerce awards banquet.
She said her parents, Miguel and Maria, are an encouragement. "They're excited," she said of the Miss Cinco campaign. "My dad clips out all the newspaper articles."
Bobadilla credits leadership teacher Dave Martinez as an inspiration for her life and desire to serve the community.
"He helps me with getting organized and the tools to get things done," she said. Among Bobadilla's leadership projects are helping with a Thanksgiving dinner at Hillcrest Manor and a camp for Outlook Elementary School fourth graders while they were coping with the temporary loss of their classrooms due to a fire.
At its heart, Bobadilla sees the Miss Cinco de Mayo crown as a way to give even more back to the community.
"I look at it as an opportunity to represent the community," she says. "It would be a good opportunity to get more involved in the community."
That includes keeping kids away from drugs and alcohol.
Bobadilla said of vying for the Miss Cinco de Mayo title, "If I am selected I think people would listen to me more in speaking out against alcohol and drug use."