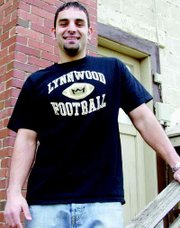 He's young, he's excited and he's about to assume command of Lynwood High School's football team.
Dorian Manza, a 1999 Sunnyside High School graduate, was recently appointed head football coach.
At 26, he says, "It's a huge opportunity to be head football coach in the state of Washington. Especially in a 3A program as big as the WESCO."
Manza teaches health and fitness at the high school and social studies at the middle school. He's particularly excited in that he's known a lot of the high school football players since their years in middle school, where Manza was their head football coach. He also served as a high school varsity assistant.
Manza said the football program at Lynwood High has struggled for the past six years, turning over about four coaches in that period. "There's plenty of talent there. They haven't had a coach to stick it out," he said.
When a program experiences turnover like that, he says, "It just leaves the program in limbo.
"I'm in it for the long haul."
Manza's had plenty of inspiration from Lower Yakima Valley coaches.
He played football in Sunnyside under Bill Daley. "He was a great coach, a great motivator. When he came to SHS he was in the same situation as myself...
"He did a really good job at bringing that program back to a winning standard."
Manza also student taught with Prosser head football coach Tom Moore. "He was a major influence on me wanting to be a head coach. He exemplified to me what a coach should be."
Manza has every intention of employing techniques at Lynwood High School learned from playing for Daley and the coaching staff that was there at the time.
Manza serves as head basketball coach at Alderwood Middle School and is one of the strength coaches at the high school.
"Athletics is good for kids because it teaches life lessons. It teaches kids about character, perseverance, commitment, hard work and dedication.
"But it also teaches lessons about victory and defeat, which relate to life in a lot of ways," he said.
He added, "It also gives kids a sense of team and family that they may not have at home."