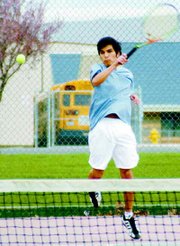 GRANDVIEW - Last Saturday's match-up between the Grandview and Quincy tennis teams was bittersweet for the Greyhounds.
Namely, because Grandview's girls were victorious by a 3-2 count, but the Grandview boys were dealt a 4-1 loss.
Grandview's No. 1 girls doubles team of Allison Grow and Danika Martinez won in straight sets against Quincy's Alyssa Van Dyke and Colleen Knodell, showing their power with a 6-1, 6-4 victory.
The Lady Greyhound No. 2 doubles team of Christine Penwell and Sydney Mottice fared as well in their match-up against Quincy's Bonnie Knodell and Kaloni Young. Their two sets were won with a 7-5, 6-2 showing.
Penwell remains undefeated in doubles play, though she has had two different partners. Earlier in the season her partner, Kyla Leyendekker, suffered some health issues, allowing Mottice the spot on the No. 2 doubles team. "They are doing very well and I am hoping Kyla will continue doing well in singles play this season," stated Grandview High School tennis coach Jaime Morales.
He said he has every confidence in all three players and has been impressed with their work on the court.
Grandview's No. 1 girls singles player, Miranda Shreeve, added to the team victory with her 6-4, 6-2 defeat of Quincy's Heidi Thaemart.
"Miranda is getting into her 'groove' and looking more confident on the court. I hope she will continue being confident for future matches," said Morales.
The Lady Greyhounds' No. 2 singles match didn't go in their favor. Kyla Leyendekker faced Courtney Felder of Quincy in a 7-6 (7), 6-1 fall at the net, and the other loss for the Grandview girls team came at the hands of Quincy's No. 3 doubles team, Katie Homer and Kristen Bierlink. Homer and Bierlink defeated Grandview's Rosalinda Godinez and Tania Valez 6-1, 4-6, 6-1.
On the boys side, Grandview was short three of its tennis players and were forced to forfeit a match. The boys' 4-1 loss to Quincy came with a hard-fought victory for No. 2 doubles players Nick Saldana and Raymond Cantu, who teamed up for the first time to defeat Quincy's Armando Diaz and Michael Martin 3-6, 6-3, 10-4.
"Due to the rain, we decided on a super tiebreaker. It is a much faster set and it can be more competitive," Morales said.
Morales also noted his plans to move Saldana and Cantu to the No. 1 doubles spot for the team. "I had planned to match them together and move them up. This Saturday's match was a little earlier than planned for the pair, but their success confirmed they would work well together," he said.
Greyhounds No. 1 singles player Marco Diaz suffered at the hands of Quincy's Cameron Rasmussen 6-3, 6-1 and the No. 2 singles match was forfeited to Quincy's Jonathon Velasqiez.
In No. 1 doubles play, Rogi
Fajardo and Edgar Candido of Grandview faced Jay Knodell and Blake Van Dyke of Quincy. Knodell and Van Dyke were victorious 6-4, 7-5.
The Greyhounds No. 3 doubles team consisting of Gabe Contreras and Richie Gamino also suffered at the net against Quincy players Josh Amador and Gabino Guerrero, losing 6-1, 6-1.
The Lady Greyhounds (2-2) and the Grandview boys (1-3) will face Othello this Tuesday.