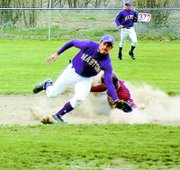 MABTON - The Mabton baseball team showed improvement in a home SCAC West doubleheader with Highland last Saturday, but still lost both games by scores of 11-0 and 14-3.
Both contests were closer than the final score indicates.
In the opener, Viking starting pitcher Jesus Rojas held the Scotties to five hits through five innings, keeping his team close with just a 4-0 deficit.
"We didn't play too badly, but the story (the difference between Highland and Mabton) was our hitting," said Coach Andy Dyer.
Indeed, Mabton batters didn't muster a hit in the first contest and were unable to take advantage of Rojas' ability to keep them within reach.
Things started getting out of reach for the Vikes, though, during the sixth and seventh innings, as Highland plated three and four runs, respectively, in those final two innings.
"It wasn't so much them, it was us," Dyer said of the Scotties' late game outburst. "Our pitcher was tired and we're short on the pitching roster." The coach said fielding errors also hurt the Mabton cause.
It was the same song, second verse, in the second game as Mabton again made it a contest up until the final innings.
Highland took a 4-0 lead into the bottom of the fourth, when Mabton rallied for three runs-its only scores of the game-without benefit of a hit.
The Vikes loaded the bases in the fourth with a hit batter and two walks. All the runs came around to score on Highland fielding errors. One Mabton player, Gael Sosa, was credited with an RBI on a sacrifice fly.
That put Mabton back in business, down just 4-3 heading into the fifth.
But the wheels came off the bus, as the Scotties batted around for an eight-run surge in the fifth to put the game away.
"It was a combination of our pitching getting tired and errors," said Dyer, who noted three of the Highland runs came in on a single error.
In the fifth, Mabton pitcher Sal Lopez came into throw in relief for starter Joaquin Aguirre.
At the plate, the Vikings connected for five hits in the nightcap, including a double by Jesus Cardenas.
Dyer attributed the late game struggles to the fact Mabton has young pitchers. "Our pitching has improved dramatically since the beginning of the season," he said. "They're keeping us close but we have a lot of inexperience."
Noting that Highland previously lost to league-leading Naches by just two runs, Dyer said it was a sign of improvement for his pitchers to keep the Scotties at bay for as long as they did.
"It was a positive for us," he said of Saturday's play. "The pitchers have a lot more confidence now." Dyer added, "We need to tighten things up and we'll be competitive."
Mabton (0-2, 0-6) returns to the diamond this Tuesday when it travels to Kittitas.