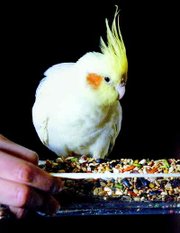 Missing the beloved family pet? More specifically, are you missing a cockatiel?
A cockatiel has been found on the north side of town, clear out on Chaffee Road.
"My dad found it yesterday (Monday) afternoon, flying around outside the house and being chased by cats," said Angela Marin.
The Marin's live out in the country in an orchard.
"It's in good condition and likes to land on people's heads," Marin added. "It's a little startling when you're not expecting it."
Being touched, however, is another matter. "If you try to touch it, it hisses and squawks. My dad brought it in (the house) pretty much kicking and screaming."
For now, the cats have been forced outside to keep the bird in a safe environment. Marin did note it likes to sleep on the computer.
If you believe the cockatiel might be yours, please call the Daily Sun News for the Marin family contact information.