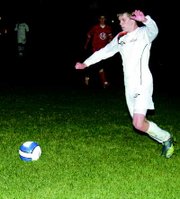 ELLENSBURG - On a cold and windy afternoon in Ellensburg, Cesar Barriga stepped up yesterday and scored three goals as Grandview beat Ellensburg 4-2.
"They gave us the win," Grandview Coach Anne Holden said of her team's position to start the first half.
Holden said the wind was at her team's back and the pitch was actually sloped downhill for them in the first half so they took advantage of all they could.
Grandview was able to create some scoring opportunities, one when Barriga scored his first goal of the game, assisted by Emmanuel Uribe. Holden said she didn't have the times of the goals.
Grandview made it 2-0 on Barriga's second goal, he took a chip shot from teammate Jose Lopez to score.
"We were feeling pretty good at that point," Holden said. "Up 2-0, with the wind at our backs."
Then, her team started making some strange decisions, she said.
After stopping an attack from the Bulldogs, a Grandview mid-fielder lost the ball to Zach Deluca, who assisted with a shot scored by Andrew Bishop. Ellensburg tied the game at two before halftime when Grandview's mid-field got caught playing back. What should have been an easy clearance turned into a goal by Andres Ramos to even the game up at two.
Defense was the difference in the second half. Grandview was able to push its defense up and Ellensburg had no idea how to break it.
Barriga scored his third goal of the game, assisted by Everado Armenta to give the lead back to the Greyhounds, 3-2.
"From there we dictated the terms," Holden said. "We were able to play the ball wide and we had some great passing opportunities."
One of those passing opportunities found Grandview's Sami Villa with the ball, he shot it over to Jorge Magana, who headed the ball in for the Greyhound's fourth and final score.
Grandview bombarded Ellensburg with 15 shots, making four of them while Grandview's keeper, Telco Perez, only had five shots on his goal and gave up two.
Grandview (3-4, 3-6) will host Quincy Thursday, April 12, at 7 p.m.