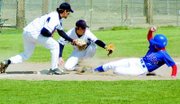 Take away one inning and the 3A Sunnyside baseball team played 4A Eisenhower of Yakima tough yesterday. Factor in all the innings, though, and the Grizzlies absorbed a pair of 12-1 and 5-2 non-league losses.
The host Grizzlies trailed just 5-1 after four innings in game one thanks to a patchwork pitching rotation that saw B.J. Miller throw three innings of relief for injured starter Gibby Briones, who twisted his knee while covering a bunt.
Sunnyside scored its run in the bottom of the fourth, when Cameron Boboth doubled and Zach Marquez knocked him home with a single. The run, and the two hits, were all the damage Grizzly batters could do in the opener.
The floodgates opened for Ike in the fifth, though, as the Cadets batted around for seven runs to halt the game at five innings.
Coach John Gutierrez said Ike did much of its damage in the sixth with two outs, scoring six of the seven runs when it was down to its last out.
"Ike hit the ball pretty well," Gutierrez said. "Their bats were hot."
Eisenhower cooled at the plate considerably in game two, as Boboth pitched all seven innings in the tight 5-2 loss, holding the Cadets to nine hits and two earned runs.
"Boboth went the whole way and only threw 89 pitches," Gutierrez observed. "He was picking up the fastball, curve, a knuckleball or two. He had his stuff on and we made some plays behind him."
Ike finally broke the ice with three runs in the third inning, and Sunnyside answered by scoring both of its runs in the fourth.
Miller started the rally by coaxing a walk, followed by singles from Marquez and Tim Taylor to load the bases. Tristan Abbott came through with a clutch single to knock home two runs.
"We're finally starting to bunch up our hits," said Gutierrez. "We're hitting the ball better."
It remained a 3-2 game in favor of Ike until the top of the seventh, when the Cadets scored two insurance runs on a hit to the outfield.
On the play, Grizzly center fielder Nate Cornelius was injured when he hit the outfield wall. Gutierrez said Cornelius was taken to the hospital and was unsure if he would be available for this Friday's doubleheader with Kamiakin.
Cornelius recorded 10 unassisted put outs for the two games. Abbott filled in for Briones at shortstop and played well, said Gutierrez.
At the plate, Taylor was 2-for-3 in game two.
"We finally put together a game where the pitching was good, we hit the ball a little bit and defensively played really well," Gutierrez said of game two.
Sunnyside (0-4, 0-9) hosts Kamiakin this Friday.