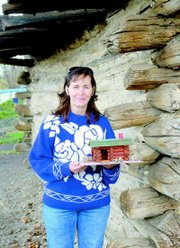 It will be a reunion of sorts this Saturday when an estimated 40 Snipes family members meet in Sunnyside.
John Saras is a board member with the Sunnyside Museum, and said the gathering will be the first time some of the family members have met in several years.
Pioneer cattleman Ben Snipes is a well-known figure in Sunnyside's history, still remembered by a cabin of his that now sits across from Central Park. Originally located outside of Sunnyside, in the Emerald Road area, it served as a stopover point for cattle drives. The cabin was believed to have been the first immigrant structure built in the Yakima Valley.
Saras said the Snipes family members will be at the Sunnyside Museum for an open house reception from 10:30 to noon. They will then have a private luncheon at Bon Vino's with members of the museum board.
The family, made up of mostly nieces, nephews and cousins, call themselves the Ben Snipes Family of America. According to Saras, family members will come to Sunnyside from as far away as Virginia and New York.