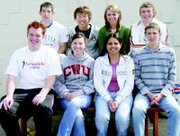 There is a new club at Sunnyside High School. Their focus? "To support others and their beliefs," according to Christian Faith Club member Jonas Linde.
The club received official recognition from the Sunnyside High School ASB before Spring Break and they are excited about the support received.
"We had to get 20 signatures on a petition," said club member Hannah Paulakis.
The group said the signatures were surprisingly easy to obtain. "There were people willing to sign (the petition) whom we didn't think would," Jacob Brandvold, another member of the club, stated.
In addition to the petition, the club members needed to devise a mission, a statement of action plan, a constitution and a statement of their purpose before going before the ASB.
"They approved us unanimously," Brandvold said.
According to club members, the club was unofficial prior to Spring Break. They said a Bible study had been meeting regularly for several years and the current group decided to become official.
During the club meetings the group has a Bible study, prayer time, discuss current events and/or issues. They also eat lunch since they meet at lunchtime every Friday.
"Becoming official means we can hang posters, get shirts and do many other things we couldn't do before," Paulakis noted.
Several members expressed a desire to increase membership since the club has been officially recognized.
"With the new knowledge of the club, maybe more students will attend meetings ... perhaps we may have some freshmen attend since there aren't any currently," Linde said.
No officers have been established yet. But, the group says they anticipate a need for officers or a council.
"We would like to encourage student involvement with the club. It is our intention to support anyone who joins (the club) in their personal belief system," stated Paulakis. Students already involved in the club support their peers.
"Another main reason for our club is to help educate others that different doctrines, lifestyles and religious scripture can apply to all aspects of one's life," Linde also said.
The Christian Faith Club advisor is Sunnyside High School teacher Nick Paulakis and anyone interested in the club is encouraged to speak with him or any of the club's members.
"We would like everyone to know we are a non-denominational club," Paulakis said in conclusion.