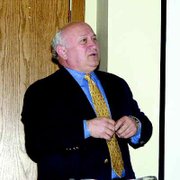 Yakima Valley Community Foundation (YVCF) President John Colgan spoke to Sunnyside Noon Rotary Club members this past Monday about the philanthropic organization.
The Foundation disperses money to various non-profit organizations. It began operating in December 2004 to benefit Yakima Valley communities. The initial funding for the organization was provided by the Sisters of Providence with the sale of Providence Yakima Medical Center and Providence Toppenish Hospital. The fund began with approximately $8 million from the Sisters.
It was the dream of the Sisters to help support the well being of Yakima Valley residents, according to Colgan.
In return, Health Management Associates, the company which purchased the two hospitals, pledged $10,000 total, payable over 10 years to the fund.
He said the foundation began by asking "What's your dream?" to both donors of the foundation and non-profits in the valley.
The purpose of the foundation is to award grants to impact the valley and increase the asset base. "We work mainly with individuals," Colgan said.
With each year since the foundation was developed, grant monies distributed have increased to approximately $350,000 in the valley. Organizations which have benefited from funds have included United Way, Sunnyside Community Hospital, Heritage University and many others.
Central Washington Mountain Rescue received a grant for new equipment during 2006 and Heritage University received a grant for its nursing program.
Sunnyside Community Hospital received a grant for $38,000 from the Foundation to make health care more accessible to residents of Mabton.
"We want to develop capacity, encourage innovation and partnerships and bring systemic changes. The funds provided are given to fund the intended programs they were meant for," Colgan stated.
He said there are several tools for giving within the Foundation. Funds include an unrestricted fund for meeting changing community needs, a designated fund to meet a specific organization's needs, a field of interest fund to serve a certain area such as Sunnyside, a donor advised fund that allows a donor to suggest where funds should go and a non-profit endowment fund used for groups such as the United Way.
YVCF recently received three new funds amounting to more than $12 million. The funds are examples of generosity exhibited by the community within the Yakima Valley, said Colgan.
When asked why a donor might choose YVCF, the answer was easy for Colgan. "Charities come and go. Using a foundation like YVCF allows funds to stay where they are intended and the donor can stipulate where they should go if an organization leaves the area," he answered.
He said it is the vision of the foundation to continue growing and helping the Yakima Valley community. "Our next step is to ask non-profits, 'What can we do for you?'"
In conclusion, Colgan noted the benefits of a non-profit seeking a grant through YVCF include a streamlined grant process. "We try to make it easy so a professional grant writer is not necessary."