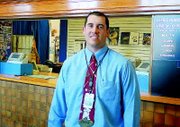 Prosser native and 10-year Postal Service employee Lewis Gress is Sunnyside's new postmaster.
Gress, 29, started work here in mid-March, but he is not entirely a new face at the Sunnyside Post Office. "I worked here before as a fill-in supervisor," Gress said.
He began his career as a mail carrier in Yakima, before rising to a supervisory position, then to a manager of customer of service at Yakima's central post office.
Along the way has had training provided by the U.S. Postal Service.
Sunnyside is his first postmaster job and his first permanent position with the postal service outside of Yakima, where he continues to live. "I have two children in school there," he said.
Gress said he sought the vacant Sunnyside postmaster position because it is closer to his hometown of Prosser. He also called Sunnyside a nice community and praised the employees at the Sunnyside Post Office.
Gress says he isn't planning any changes at Sunnyside, which has 20 employees. "I just want to continue improving our service to Sunnyside," he said.
As postmaster, Gress said his responsibilities include representing the post office to the Sunnyside community, as well as supervising employees.
He noted that his biggest responsibility is to be a listener.
"I try to listen to each need and try to satisfy them," he said. "I'm not going to make everybody happy all the time, but I'll do my best."
One possible need at the Sunnyside Post Office may be additional parking.
Sunnyside city officials are planning to change parking in front of the post office to parallel parking because of traffic hazards they say are posed by the current diagonal parking allowed there.
Combine that with proposed expansion for the nearby fire station, and the Sunnyside Post Office will be minus some parking spots.
Gress said a shortage of parking spaces is common at many post offices, noting the one he worked for in Yakima has eight parking spots and has "two times the business" that Sunnyside does.
Gress said he was unaware of the parking changes planned for in front of the Sunnyside post office. He plans to visit with Sunnyside officials and renew a dialogue about the parking situation.
"Hopefully we can figure something out," he said.