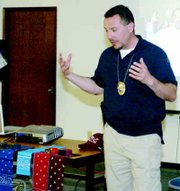 Parents of the students in the Sunnyside School District got a chance last night to listen to Sunnyside Police Detective Jim Ortiz explain a little about gangs in the Lower Valley and how to recognize them by what they might wear.
Oritz said gangs are touching many lives, noting they are taking hold in elementary schools. He said efforts need to be made to clamp down on their activities.
A parents in the audience spoke about her fifth grade child's class being locked down until someone admitted to making some gang graffiti.
Oritz said the gangs like to think of themselves as clubs.
"They're a group of criminals or hoodlums who band together for mutual protection and payoff," he said.
He said the police view gangs as groups of individuals, juveniles or adults, that form an allegiance for a common purpose.
Those purposes usually aren't good, he said.
Ortiz explained the structure of the gang hierarchy. There are the OGs, or original gangsters, regular members, who haven't been in for long, and the wanna-bes. The wanna-bees are the worst, Oritz said, because they are trying to do things to impress the others.
He said there are three ways for a male to join a gang. The first is being 'courted' or beat up by your soon to be gang members, being crimed in, where you commit so much crime you get an honorary pass, or to be familied in, where a family member can get you into the gang.
For females, they can get in this way too, but there is one more option they have. Depending on the gang, the girl is given two dice. She must roll them and the number that comes up is how many gang members she will have to have sex with.
All gangs in the Lower Valley come from two main gangs started in the 1970's in the California prison system-the Mexican Mafia and Nuestra Familia.
Oritz said known gangs in the area include the LVL, who wear blue colors, the Seureno's 13 and the Nortenos 14, who wear red colors.
Gangs are known for their graffiti and to them the scrawlings serve as a message.
Ortiz was quick to point out the Sunnyside Police Department is taking a proactive approach with these gang members. He encouraged the public if they see gang members wearing bandannas over their faces or flashing gangs signs, to call the police so they can check it out.
"It's what we get paid for," Oritz reminded the crowd.