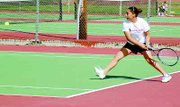 The final outcome was a bit closer than in previous matches, but still resulted in 5-2 losses for both the Sunnyside boys and girls tennis teams against Eastmont yesterday.
"We were a little bit more competitive," said Coach Troy Whittle.
Highlights for the Grizzly boys included singles victories for Jake Wavrin (3-6, 6-4, 7-5) and Jacob Kresse (6-4, 6-2).
"Jake took the net," Whittle said of Wavrin's comeback win. "He used his doubles skills in singles and dominated the net." Of Kresse, Whittle added, "Jacob has turned into one of our more complete players. He's showed some improvement."
In other singles play, Sunnyside's Hunter Van de Graaf lost 6-2, 6-4 and teammate Mitchell Sanchez lost 6-0, 6-4.
Over in boys doubles, the Grizzlies' Matt Johnson and Justin Snyder lost 6-3, 6-2. Sunnyside's other two doubles teams-Jon Martin/Tyler Carpenter and Jorge Pacheco/Osvaldo Alvarez-lost their matches 6-3, 6-3 and 6-0, 6-0, respectively.
The Lady Grizzlies also found their victories in singles play, as Vikina Pavlova prevailed 6-4, 3-6, 6-4, and teammate Nikki Hernandez won 6-2, 6-2.
Sunnyside's Regina Mendez and Kristin Drieson lost the other two singles matches by 6-4, 2-6, 6-3 and 6-1, 6-2 scores, respectively.
Whittle praised the play of Mendez and increased consistency she is showing.
In doubles, Gayle Hansen and Hannah Paulakis of Sunnyside lost 6-1, 6-2, while the Lady Grizzly duos of Jamie Zijlstra/Cindy Gudino and Jessica Gonzalez/Cristal Sandoval lost 6-0, 6-0 and 6-2, 6-2, respectively.
Sunnyside next returns to action on Saturday, April 21, when it hosts Kennewick.