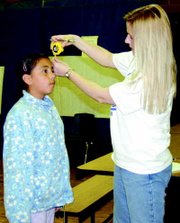 MABTON - On hand to further spread awareness of child abuse at Artz-Fox Elementary School this past Friday were representatives from DSHS Children's Services, Lutheran Community Services and Consejo Counseling and Referral Services.
Each group had a booth set up with various educational brochures, and DSHS set up a Kid Safe ID station for parents to have their children's vital information recorded in case of an abduction.
"We want to promote (child abuse) awareness and prevention in the community," said DSHS case worker Yolanda Quintero.
She said the Kid Safe ID cards the agency were creating would help parents and law enforcement identify a child who might be missing or abducted.
"There are a lot of children in abusive situations," said Families for Kids Recruitment and Support for Foster Parents representative Sara Clark.
She said she was at the event to educate persons interested in becoming foster parents about the "...growing need for foster care."
"Some families just need help getting their lives back on track to ensure the kids are taken care of as best possible," she stated.
Clark also said kids need good role models and the love and support to thrive. "Kids are a product of our future," she noted.
DSHS and Lutheran Community Services work together to find placement for children who are in need of foster care.
"Foster parents step in when parents are unable to provide proper care for their kids," said Clark.
Because cases fluctuate with the ebbs and flows of life changes within families, the abuse rates change.
"Sometimes life can really overwhelm parents," said Clark.
Child abuse can be prevented with the proper support, said those running booths last Friday, and the three organizations all noted they would like families to know they can obtain that support through any one of their agencies.
There will be an event like the one in Mabton held in Grandview this coming Thursday at Yakima Valley Community College between 1 and 4 p.m. Another event is scheduled in Sunnyside at the Sunnyside Community Center on Thursday, April 26, from 2 to 4 p.m. Anyone interested in learning more about child abuse prevention or obtaining a Kid Safe ID for their child is encouraged to attend either event.
awareness event held this past Friday.