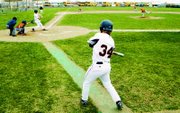 It was a tale of two games for the Sunnyside High School baseball team in 11-0 and 14-1 home losses this past Friday to Kamiakin.
In game one, Grizzly starting pitcher Zach Marquez twirled a gem, keeping the Grizzlies close as Sunnyside trailed just 1-0 after four innings.
"Zach pitched very well in game one," said Coach John Gutierrez.
But Kamiakin blew things open with a six-run rally in the fifth to seal the win.
"It was the second or third time through the line-up (against Marquez) for some of Kamiakin's batters and they started timing their swings a little better," Gutierrez observed.
Sunnyside mustered just three hits for game one, delivered by Marquez, Cameron Boboth and Buddah Palomarez.
The closest the Grizzlies could get to a score was the bottom of the fifth inning when Sunnyside loaded the bases.
Kamiakin didn't wait in game two, knocking home six runs in the very first inning to take control.
Gutierrez said that while the Grizzlies had some success pitching against the Braves in game one, game two was a different story.
"I think they just continued their momentum from game one," the coach said. He added that all of Sunnyside's pitchers in game two struggled at times to set down the Braves.
Sunnyside had two hits in the nightcap, and bunched them together in the fourth inning to produce the home team's only run of the day. Boboth coaxed a walk to start the rally, followed by a single from Gibby Briones and an RBI single by Marquez to bring Boboth home with the run.
Gutierrez also found a positive in the field in the play by first baseman Greg Gutierrez. "Greg had a couple of scoops at first base that helped save a couple of runs," the coach said.
Sunnyside (0-6, 0-11) doesn't return to the diamond until Tuesday, April 24, when it travels to Kennewick.