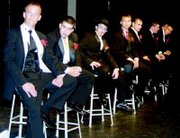 Sunnyside High School student Tyler Carpenter was crowned Mr. SHS following Saturday night's pageant.
But the goal behind the competition never was about who'd be crowned, rather the children who would benefit from the nine contestants' endeavors.
The event, made possible by the Leadership Class, raised funds for children's health care at Yakima Valley Memorial Hospital and Children's Village.
"The whole idea behind it was not so much about the winner Saturday night, but the experience the guys went through over the course of the three months leading up to it," explained Leadership Class advisor Dave Martinez.
For the past few months, the contestants and student coordinators have worked diligently on various projects to raise funds.
Martinez said he wanted the coordinators and the contestants to get hands-on learning experience in making a difference in children's lives. "I definitely felt that happened Saturday night. The whole event did that for us."
Evident to pageant-goers was the fact that the contestants were encouraged to interact with children, as well as identify a hero in each of their lives. The children were brought on stage early as each contestant performed a skit that explained what that child wanted to be when he or she grew up.
Following a dance, the contestants zipped around the audience for two to three minutes during the "Dash for Cash" fundraising effort, which netted $720. Martinez was pleasantly shocked at the outpouring of community support, including funds raised from this particular endeavor.
All told, $8,500 was raised.