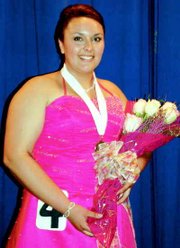 GRANDVIEW - Four young ladies were on stage at Grandview Middle School this past Saturday, vying for the title of Grandview Junior Miss 2007-08.
Due to the limited number of contestants, the Grandview Junior Miss Committee opted to allow all four ladies to serve on the 2007-08 court.
Shining bright, Katie Veloz was awarded the esteemed title at the end of a very eventful evening. She wore a magenta gown with spaghetti straps and an elegant criss-cross back during the self-expression portion of the program. She showed character and poise during the various events of the evening.
Also exhibiting their talents and poise for the community during a "Wipe Out" presentation were Fabiola Jimenez, Alyssa Trevino and Noelle Hall.
Each of the ladies exhibited a different talent for the audience. Jimenez performed a belly dancing, Merenge and hip-hop routine. Trevino performed a vocal solo of "Old Rugged Cross." Playing her saxophone, Hall performed "Maple Leaf Rag." Veloz showed her talents on the piano, performing "Touch a Rainbow."
The crowd was pleased with each of the performances and applause for each reverberated throughout the gymnasium.
During the self-expression portion of the program, each of the young ladies drew a question and gave a brief answer.
Jimenez was dressed in a black gown with a halter neckline and turquoise floral design. The flared bottom of the gown gave it extra appeal. Her question was "What famous person does your personality most parallel?"
Her answer to the question was, "Selena ... I have been told that ever since I was little."
Wearing a red gown with a red floral patterned design and a simple tank neckline, Trevino was asked who's life, other than her own, would she most like to live and why. She answered that she would like to live Oprah's life because of the respect shown by the famous talk show hostess' viewers.
The parting 2006-07 Junior Miss Court also performed for those in attendance. Each gave a dance routine with their father.
Co-finalist Janett Romo and her father performed a belly dancing routine, co-finalist Danika Martinez and her father Joe performed an Irish dance routine and 2006-07 Grandview Junior Miss Allison Grow and her father Tim performed a ballet routine, complete with liederhosen to a famous number from The Sound of Music.
The three ladies had moving farewell speeches, thanking those who have supported them over their year on the court.
Said Romo, "This year has been an amazing year. I cannot even begin to give thanks to those who've supported us."
"I now realize what the Junior Miss Committee told me was true," said Martinez.
In Grow's speech, she let her younger sister know she would be supportive when the younger Grow competes for Grandview Junior Miss and ended with, "It's my turn to say so long and farewell to my reign as Grandview Junior Miss."
Awards given out Saturday included Be Your Best Self received by Noelle Hall, Immanuel Lutheran Church Community Service Award received by Katie Veloz, Spirit of Junior Miss Award awarded to Katie Veloz.