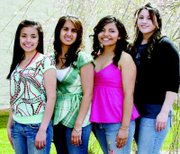 MABTON - This year's Mabton Community Days festival will be held Friday and Saturday, June 8-9 at Fezell Park.
In conjunction with Mabton Community Days, five young ladies will vie for the Miss Mabton title on Friday at 7 p.m.
Both the Mabton Lions Club and the coordinators for the 2007-08 Miss Mabton Court are excited the two events will be held together this year, according to Connie Beeman.
She said the coordinators hope to revive interest in the Miss Mabton Pageant this year.
Competing for the title of 2007-08 Miss Mabton will be Rubi Reyes, Kayla Campbell, Cecilia Campbell, Inez Gutierrez and Juanita Martinez.
Reyes is 15-years-old, and her parents are Maria and Leopoldo Reyes of Mabton. She has three sisters and two brothers. She plans to perform a dance routine during the talent portion of the Miss Mabton Pageant. Her interests include softball, drill team, dancing, scrapbooking and reading. She plans to obtain a Bachelor's degree in science after high school.
Campbell is the daughter of Martin and Sandra DeRobles of Mabton. She is 16-years-old and has one brother. She anticipates performing a dance routine during the talent portion of the Miss Mabton Pageant. Campbell participates in Mabton High School basketball and volleyball. She enjoys babysitting, swimming, playing sports and being with her friends. She aspires to be a nurse, following high school.
Cardenas, 17, is the daughter of Yadira Escoto and Celso Cardenas of Mabton. She has one sister and two brothers. When she is not playing her clarinet or singing, she participates in Mabton High School volleyball, softball and cheerleading. She is her class vice president and band vice president. Cardenas is unsure about her post-secondary pursuits.
The 17-year-old daughter of Graciela and Javier Gutierrez is one of nine children. Gutierrez plans to attend the University of Washington with a major in biochemistry after her high school studies. She plans to perform an artistic monologue during the talent portion of the Miss Mabton Pageant. Her interests include reading fantasy and science fiction novels, sketching and writing short stories. She is president of FCCLA, a member of the Academic Club, and is a team member of the Mabton High School volleyball, wrestling and track teams. She is unsure of which talent she will perform at the Miss Mabton Pageant.
Martinez is the daughter of Gonsaga and Gustavo Martinez of Mabton. The 16-year-old anticipates completing a dance performance to a hip-hop/cumbia music mix during the Miss Mabton Pageant. She is involved in dance team, volleyball, the prom committee and is the boys varsity basketball team manager at Mabton High School, and she enjoys shopping, hanging out with her friends and spending time on the telephone. Her plans after high school include going to a four-year college to major in dental hygeine.
Mabton Community Days will feature food booths, games and entertainment on both days. The event will begin at 5 p.m. Friday and end at 9 p.m. both days, with events beginning at noon on Saturday.
The Mabton Fireman's Breakfast will be held from 6 to 10 a.m. in the park on Saturday with the parade to follow at 11 a.m.
A car show hosted by Mabton's Mama J'z will also be a new feature at this year's event. Those interested in entering the car show can call 830-0268.
Vendors and parade entries can pick up an application at Mabton City Hall or contact Connie at 391-5879 or Melodie at 391-6034.