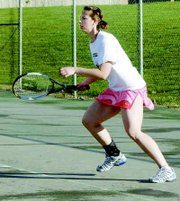 GRANDVIEW - Both Grandview High School boys and girls tennis teams secured a non-league victory against the Ki-Be Bears yesterday.
The Lady Greyhounds clenched a 5-0 victory in spite of the weather. With the No. 1 singles and No. 1 doubles matches being interrupted by rain, the coaches of both teams had to evaluate whether or not the matches would continue.
Figuring the adverse weather would pass, both Grandview Tennis Coach Jaime Morales and the Ki-Be coach felt the matches could continue. But, they also concluded the matches would need to be moved from the city of Grandview courts to the Grandview High School (GHS) tennis courts.
No. 1 Grandview singles player Miranda Shreeve defeated Merci Valdez of Ki-Be 6-1, 6-0 before moving the matches to GHS.
In No. 1 girls doubles play, the Christine Penwell and Sydney Mottice's match against Bears netters Rachel Crawford and Leilani Wight was interrupted by the weather, however Penwell and Mottice secured their victory 6-1, 6-2.
The No. 2 doubles team of Allison Grow and Kyla Lyendekker of Grandview defeated Ki-Be's Hannah Norman and Megan Hirschi 6-3, 6-4. Grow's regular partner, Danika Martinez, was in Arizona scouting colleges, according to Grow.
The No. 3 doubles team of Liz Aloccer and Tania Valdez of Grandview also performed well against opponents Emily Wilson and Michaela Schroeder of Ki-Be. The 6-3, 6-3 victory helped Grandview's overall performance.
In No. 2 girls singles play, Rosalinda Godinez's 7-6 (3), 6-3 victory against Ki-Be's Haley McDaniel wrapped up the 5-0 win for the Lady Greyhounds.
The boys team also faced the weather. But, they overcame it in their 3-2 victory over the Bears.
No. 1 singles netter Marco Diaz of Grandview showed up Bears player Evan Blues with a 6-3, 7-6 (1) victory.
The No. 1 Greyhounds' doubles players, Edgar Candido and Rogi Fajardo, faced a suspension of their match. The two continued play after the weather broke to defeat Jeff Stewart and Joe Patterson of Ki-Be 6-2, 2-6, 6-3.
The winning continued for the Greyhounds with the No. 3 boys doubles victory. Grandview's Richie Gamino and Garrett Walker faced Ethan Clouse and Charles McClammer of the Bears. Gamino and Walker defeated the Bears' teammates in straight sets 6-3, 6-2.
In doubles action, the Grandview boys tennis team suffered one loss.
Ki-Be's No. 2 team of Jon Willis and David Mitchell handed a loss to Grandview's Raymond Cantu and Nick Saldana 6-2, 6-4.
One Greyhound loss came with a forfeit in No. 2 singles. "We were short players again," said Morales.