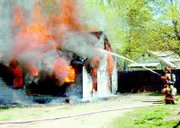 When the Sunnyside Fire Department arrived on scene at a fire in the 1200 block of Ida Belle Avenue yesterday at approximately 12:45 p.m., the one-bedroom home was completely involved and a home next to it, in the 1300 block of South 13th Street, had also sustained fire damage.
Property owner Gustavo "Gus" Davila, after traveling to Mabton to pick up a friend who was going to help him clean up the property, discovered the blaze and called local firemen for help.
At the scene, Davila lamented the loss of the second rental home on his property in a little more than a year.
"The poor man has not had good luck," said Davila's friend, Jason Zimmerman.
Davila said he had not been on the property in approximately a week's time. But, his intentions were to clean up the property and work on the home so he could rent it.
"There wasn't any power and nobody was living in it," Davila said as he tried to figure out how the fire was started.
Davila's first rental home on his Ida Belle property that was earlier destroyed by fire was determined to be caused by a flammable liquid in the doorway having been ignited.
After investigating yesterday's blaze Sunnyside Fire Chief Aaron Markham said the fire was intentionally set, believing both Davila's rental home and the adjoining house on South 13th Street were intentionally set ablaze.
Markham stated the South 13th Street home sustained damage when someone set curtains on fire inside the structure. "Some carpeting showed burns from the curtain fires," he said, noting the fire didn't spread, fortunately.
Approximately $30,000 damage was sustained with the loss of the home on Ida Belle Avenue yesterday.
"We cannot say this particular fire is arson because a motive has not been determined," Markham clarified. "Right now, we can only say it was intentionally set on fire."