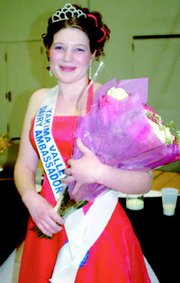 Before a packed house last night at Sunnyside's Community Center, Julie Wedam was crowned the Yakima Valley Dairy Ambassador for 2007-08.
The 50th annual dairy ambassador program banquet was organized by the Yakima Valley Dairy Women.
Wedam is the daughter of Michael and Susan Wedam of Sunnyside. She and Alyssa Boogerd were the two candidates for the crown.
Boogerd will serve as dairy ambassador alternate. She is the daughter of Jim and LaVonne Boogerd of Outlook, where the family has 525 Holstein dairy cows, with approximately 400 replacement heifers.
Wedam's father is a bovine veterinarian and she has assisted him with tagging, tattoing and record keeping related to dairy cows.
Last night's program included speeches by both candidates, who are Sunnyside High School juniors.
Boogerd opened and shared with the audience the benefits of the dairy industry related to creating jobs and supporting the local economy.
She described a scenario where a dairy farmer might need to shop with local businesses ranging from a tire distributor to a mechanic to a bovine medicine supplier.
Boogerd also gave a nod to the George DeRuyter and Sons Dairy where equipment is being used to turn cattle manure into electricity.
In her speech, Wedam focused on advertising in the dairy industry. She touched on the history of dairy advertising, which began due to an oversupply of milk and competition from soft drinks.
Today, she noted, all dairies contribute to a fund to help advertise and get out the word about milk.
Using a power point presentation, Wedam referenced the ever-popular "Got Milk?" campaign slogan, showing how the ad has evolved to appeal to all ages.
Both speeches were given from memory.
During a question and answer session, Boogerd reiterated the economic benefits provided by the dairy industry and Wedam said the best kept secret in the industry is that milk from regular and organic dairies have the same nutritional benefit.
Before the judges' decision to crown Wedam with the ambassador title was made official, outgoing ambassador Natasha Daniel shared a farewell message and recollections of a busy year. Daniel will represent the Yakima Valley during the State ambassador competition to be held this June.
Also last night, Margaret DeRuyter received the Friends of the Industry award for her time and hospitality on behalf of the dairy industry.
Two Yakima Valley Dairy scholarships of $1,000 each were presented last night to Nick de Jong and Christy Linde.
Also present last night was the State Dairy Ambassador, Trista Van Berkum.