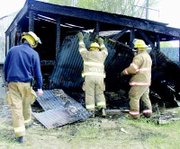 f at first you don't succeed ... try, try again.
That is apparently the motto of persons responsible for setting a fire at a home in the 1300 block of South 13th Street. Early this morning a house at that location was set ablaze for the second time in two days.
Firefighters extinguished a blaze at the home on Tuesday at approximately 12:45 p.m. A person or persons had set curtains on fire after breaking windows to gain access to the residence. Tuesday's attempt at setting the home on fire was unsuccessful in that the fire did not spread.
This morning's fire was extinguished, and approximately $10,000 damage was estimated, according to Sunnyside Fire Captain Bill Harris. The incident has been referred to the Sunnyside Police Department for investigation.
The Sunnyside Fire Department responded to six other fires since Monday, including one at a home in the 1200 block of Ida Belle Avenue that was completely destroyed this past Tuesday. That fire is also believed to have been intentionally set.
"It is believed the two fires on Tuesday and the fire this morning could possibly be related," said Sunnyside Police Detective John Chumley, "But it is still early in the investigation.
"We are treating it as an arson until we can determine, if and when, it is not an arson," he stated.
Sunnyside firefighters also assisted Grandview with a fire in Grandview Monday at approximately 2:15 a.m.
A stove fire in the 400 block of South Hill Road was handled by Sunnyside firefighters on Wednesday just before 6 a.m.
The Sunnyside Fire Department responded to a home fire in the 1400 block of West Madison Avenue yesterday at approximately 10:10 p.m. Damage was estimated at $1,300. The fire was extinguished. The fire is under investigation.
Also responded to by the Sunnyside Fire Department since Monday were three aid calls. All three victims were taken to Sunnyside Community Hospital by ambulance.
The Sunnyside Fire Department ambulance service provided five patient transfers since Monday from Sunnyside Community Hospital to other medical facilities, as well.