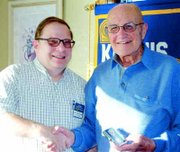 John Saras of the Sunnyside Museum Association was awarded the "Everyday Hero Award" by Sunnyside Kiwanians Wednesday morning.
Said Kiwanis Club President Jim Sleater of the retired educator, "When I first started (in education), we didn't have mentors. I wasn't in John's room every day, but I was in there once or twice a week. He was very giving in his advice."
Sleater added that Saras was also quite popular as an educator. "He was one of those that always had former students stop by."
Saras was also the featured guest speaker at the early morning meeting, speaking on behalf of the local museum.
Saras said the museum is operated by volunteers. And because there are very few of them, more are needed.
"We need help," he said, simply.
The museum operates from 1 to 4 p.m. Thursdays through Saturdays. "If you're interested in sitting in the museum for three hours, let us know," he said.
He said that guests and visitors to the museum enjoy learning about Sunnyside history, which abounds.
The museum opened in 1971 and is owned and maintained by the city, which Saras described as "a unique set-up."
He said there are numerous displays to be enjoyed, including room by room exhibits featuring antiques, old quilts, dresses and old trunks.
There are also between 50 to 60 biographies of local pioneers to the area. And, he said, "If you know of any old pioneer or you belong to one of them, let us know. We'll see if we can get a biography. There are so many interesting stories," he said.
Saras also spoke of the Christian Cooperative Coalition, which settled in the area after Sunnyside went bankrupt following the depression. The Christian settlers from Illinois set strict rules in the area: no drinking, no gambling, no prostitution and no business to be conducted on Sundays.
The museum features "thousands and thousands of letters" sent to Illinois by Sunnyside settlers describing this area, Saras said.
The museum has several other displays, like a set of 1934 Big Little Books, an old irrigation weir box, the original branding iron of Ben Snipes, an old player piano and old phone system in which an operator was needed to make a connection.
There is no admission cost to visit the museum, the association relies solely on donations.
Saras said that, this past weekend, about 50 members of the Snipes family visited the area and, all told, donated about $800.