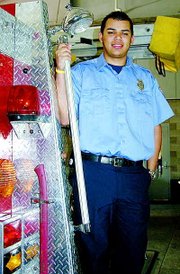 GRANDVIEW - It didn't take long for volunteer firefighter Fonzie Lopez to make his mark in the Grandview Fire Department. Lopez was recently recognized as the most improved volunteer for 2006, only a year-and-a-half after he joined.
"I got involved because I always wanted to get into the medical field," said Lopez, a 2004 Grandview High School graduate.
That wasn't the only influence. His friend Kevin Glassenapp had also joined the department. "He seemed really happy and to be having fun and he talked me into it."
Already, things are different than when he first joined the department. Lopez, like many of the veteran firefighters, had to wait for the once annual recruit training, which is very time consuming. Recruits train two days a week and all day every Saturday for three months. Today, Grandview's testing a pilot program that facilitates near immediate training for qualified individuals 18-years-of-age or older.
Lopez, like many volunteers, enjoys the adrenaline. "When things are going on, you think about something totally different.
"When you see fire, you want to go in there and help. You put everything behind you and go in and do what you're trained to do," he said. "Now I don't even have a second thought about it."
Part of what earned Lopez the most improved volunteer honor is desire to not disappoint his peers. "You don't want to let them down. When you're told to do something, you want to do the best you can, especially on a call.
"They want to teach you what they know, so the next person that comes up you can teach them the right way of doing things, like you've been taught," he said.
Lopez is now eyeing a career in physical education. He currently serves as a para-pro at Arthur H. Smith School, working one-on-one with a third grader.
"To see the change that he's (the student) gone through from the beginning of the year to now, it's nice to see the difference in him," said Lopez.
That sentiment is echoed right back at Lopez, with the recent award as Grandview Fire Department's most improved volunteer.