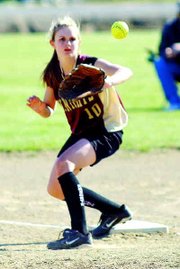 Wrapping up a doubleheader that began back on March 27, the Sunnyside Christian High School girls fastpitch softball team defeated visiting Kittitas yesterday afternoon, 8-6.
Coupled with the Lady Knights' 18-13 victory over the Coyotes in their first go-round in late March, Sunnyside Christian earned a sweep of the non-league twin bill.
The March 27 doubleheader at Kittitas was called after the first game, due to blowing winds and frigid temperatures.
Yesterday's win on its home field improved Sunnyside Christian's overall record on the season to 7-5.
A four-run second inning Thursday afternoon served as the Lady Knights' crushing blow. Jacqui Roberts delivered a two-run single that frame, with Brittany den Hoed adding a run scoring double and Abby Bangs coming through with an RBI fielder's choice.
For the game, the seniors den Hoed and Roberts went 2-for-3 and 2-for-4, respectively.
Roberts' productive stick may be sidelined, however, as she sustained an extended shoulder while sliding into second in the sixth inning. She exited the game in severe pain, and SCHS Coach Sandy Harris said it is unknown if she'll be available for today's league game at Lyle.
Sunnyside Christian scored what proved to be the winning runs in the bottom of the third yesterday. Following singles by Melanie Van Wingerden and Jamie Sveen, Leah Bosma brought the first run home with a fielder's choice and Naomi den Hoed pushed a second run across the plate with a sac bunt.
Kittitas, which received a 2-for-4 offensive effort from its pitcher, Dallas Maupin, made the game interesting by punching three runs across the plate in the final inning. The Coyotes came up with two hits in that final frame and took advantage of two Sunnyside Christian errors and a walk.
The Lady Knights will travel to Lyle today (Friday) to round out league play with the Cougars. Sunnyside Christian knocked off Lyle twice in their first meeting of the season back in mid-March.
Next week, the SCHS girls will host Klickitat for a league doubleheader on Tuesday and two days later, on Thursday, will entertain Grandview in a non-league game.
Kittitas 0 0 3 0 0 0 3 -6 4 4
S'side Christian 1 4 2 0 0 1 x -8 9 7
D. Maupin (5 K's, 1 BB) and S. Bliss. T. Van Wingerden (6 K's, 4 BB) and M. Van Wingerden. Kittitas: D. Maupin 2/4, 1 RBI. S'side Christian: B. den Hoed 2/3, 1 RBI, (2) 2B; J. Roberts 2/4, 2 RBI).