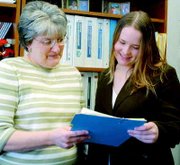 After three years as an assistant principal at Pioneer Elementary School, Jennifer Allen will switch hats as of July 1 and become the Sunnyside School District's director of special education programs.
A search is underway in the district to fill the assistant principal opening.
As special education director, Allen will replace Karen Eaton, who is retiring at the end of this school year.
The move to special education administration is one that Allen has pondered for a few years.
"I've always had a real interest in helping kids with special needs," says Allen, currently on maternity leave from her post at Pioneer.
She said that interest began while she was in college while working as a behavioral therapist, and continued during her three years as a teacher in the Snoqualmie Valley School District.
While at Pioneer, one of Allen's responsibilities was working in the area of special education.
"I really enjoyed the special education part of it," she said of the assistant principal position. "It was a real natural transition to switch positions."
Allen's training includes an undergraduate degree in psychology, a Master's degree for her teaching credentials, as well as administrative credentials.
Allen said her new responsibilities in administering the district's special education program will include hiring and overseeing staff, visiting the classrooms and making sure the school district complies with all state requirements in educating children with special needs.
Those special needs, she adds, may include autism, learning disabilities or a host of other impairments, such as vision or hearing loss.
"Student achievement is number one, it's at the heart of everything we do," Allen said. "It's important to make sure we do everything we can to best meet the needs of our kids."
Though Allen is on maternity leave from Pioneer, she is making the most of her free time by getting a jump start on learning the ropes of the special education director position.
"I've been job shadowing Karen a couple of days a week," Allen said. "I feel fortunate that I've been able to spend time this Spring learning from her. Hopefully that will make the transition easier."
Eaton is confident things will go smoothly.
"Jennifer has experience as an administrator and she has energy and enthusiasm for special education," Eaton said. "She has the ability to work well with teachers, parents and kids. The staff has been quite impressed with her."