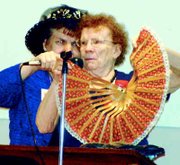 PROSSER - It was a sister act in every sense of the word at Monday's Lower Valley Christian Women's Club meeting, as sisters Loris Ketter and Darien Parson provided entertainment and encouragement.
In keeping with the luncheon meeting's "hat" theme, Ketter generated laughter with a comical look at making hats out of a variety of items, ranging from a kitchen apron to nylon stockings.
The tone turned serious when Parson addressed the audience and shared her story of growing up with two deaf parents.
Parson said both were deaf due to childhood illness. She noted the large family found ways to communicate through lip reading and some speech since her mother and father were old enough to speak and hear language before they lost their hearing.
Mother of five, Parson described how she and her married family purchased a ranch with a big farmhouse in rural western Washington. As her children grew, she said she realized she needed to find a church for them to attend. That led Parson to a small, country church. "It was just like a Christmas card," she said of the setting.
Parson said a pastor from the church, a village mission, helped guide her into becoming a Christian.
During that time, though, she said her husband, Norman, resisted. "Whenever the Pastor visited Norman would pick up a hammer and find something around the house to work on."
Parson said that changed when the little church's next pastor "brought a hammer with him and started helping Norman. He couldn't ignore the Pastor then," she laughed.
Today Parson lives on a Hereford ranch in Yelm with Norman-"He loves hunting, fishing and me, in that order," she joked-and have grandchildren, including two sets of identical twins born a few months apart.
One of those sets of twins, girls, had a hard time learning their names, Parson recalled.
"I would call the other twins by their names and they would respond," she noted. "But the girls never looked up when I called them by name."
Doctors eventually confirmed what Parson suspected, the identical twins both born deaf. "They even found that the deformity in the girls' ears are identical," she said.
First with her parents, and now with the twins, Parson again found herself with a connection to the deaf community.
"God does not make mistakes," she told the women's group. "God has given me a connection with the deaf culture and he can use this to His glory."
Since the birth of her deaf set of granddaughters, Parson has found new ways to reach the world around her. That includes teaching sign language to college students and using sign language for a very special purpose.
"I have a presentation of the Gospel by using sign language," Parson said as she demonstrated it for the audience. "All have sinned and missed God's mark," she signed. "But God gives us the victory through Jesus."