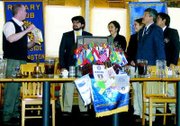 Members of Rotary International's Group Study Exchange team from Chile spoke to Rotarians from the Lower Valley at Monday's Sunnyside Noon Rotary Club meeting.
The group gave a presentation featuring pictures of their families, work and scenery of various locations in Chile.
The group hails from one of four Rotary Districts within Chile. There are 66 Rotary clubs within their region with a membership of approximately 1,300.
Located in South America, Chile is a country that is approximately 5,000 kilometers (3,107 miles) long, running north to south. Chile's landscape includes a desert, waterfalls, coastal beaches, mountains and forests.
The country is the top fruit exporter in the southern hemisphere and other natural resources include timber, fish, copper, silver and gold. It is the second largest salmon exporter in the world, said team members.
The team said the primary language spoken in Chile is Spanish. But, there are many who are trying to learn English.
"The country is divided into zones," said team leader Erico Wulf Betancourt. The zones are known as the Big North, Small North, Central, South and Patagonia.
The Big North features many of the oldest beaches for tourism, as well as a desert. The Small North's main feature is a valley after the desert from the Big North fades. The Central Zone of Chile is the center for administrative, economic, political and cultural centers. In the South zone rivers and lakes, volcanoes and many natural resources are found among popular tourism destinations. Patagonia is primarily uninhabitable. There are many national parks in this cold zone of Chile that tourists find popular.
The team also stated Chile is the country to which many islands are a part. The islands include Easter Island, Antarctica and more.
Betancourt said Rotary International was formed in Chile in 1923 with its first club in Valapraiso. "We were the fourth club established in Chile," he stated.
Each member of the team presented pictures of their lives in Chile. English teacher Marica Poblete is the mother of two children and teaches at the University of Atacama. Gustavo Pavez von Martens is a Kinesiologist and physical therapist who has two little girls. He works in a nursing home and hopes to work for a hospital within the next 10 years.
Betancourt works for the University of La Sereña where he teaches in the engineering department. Industrial and chemical engineer Clavo Azuna Barrientos moved to Chile from Brazil when he was 10-years-old. He works for one of the largest sanitary companies in Chile.
"My job is in sewage," he stated. He measures liquid waste for approximately 300 companies his employer serves.
Marcela Rodriguez stated she has "...found everything nice" during her first trip to the U.S. She teaches physical education to elementary through high school age students and enjoys traveling.
The group was proud to share information about their country and themselves to Lower Valley Rotarians, and their presentation was concluded with Sunnyside Noon Rotary President Greg Visser gifting each of them with a white Rotary banner to share with their clubs in Chile.