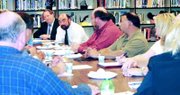 GRANDVIEW - In a joint meeting held Monday night, the Grandview City Council and Grandview School Board met to discuss how they are combining efforts to combat gangs.
"We are working together to intervene on gang issues in Grandview," said Schools Superintendent Kevin Chase.
He said the city and school district have recognized gangs are a problem throughout the Lower Valley. As a part of that recognition, leaders throughout Grandview have been holding monthly meetings to address prevention, intervention and suppression of gangs.
Chase also provided a list of various prevention efforts being made in Grandview, such as Frenzy Fridays at Grandview Middle School, the hiring of a School Resource Officer (SRO), added cameras to the schools' security system, anti-gang forums and providing a list of activities for children in the Parent Resource Center on Euclid Road.
"We still have things we have to do this year," he stated. "But, they are planned and will be done." Some of the steps planned include SRO Robert Colley and an additional officer's completion of Gang Resistance Education and Training (GREAT) program, staff education within the schools and the completed purchase of two-way radios for all the school buildings.
He said the Yakima County probation officer who has been working with the group of city leaders spoke to juvenile court Judge Susan Hahn regarding the coalition efforts being made in Grandview.
"She was impressed and indicated an interest in coming to see how it works," said City Administrator Scott Staples.
School Board Director Alfonso Contreras asked about the security cameras on campuses and whether or not there were any indoor cameras. He said he would like to have some in the hallways.
Grandview School District Finance Director Brad Shreeve said the district is looking at the purchase of 10 additional cameras. "The costs vary with the lesser priced cameras costing up to $200 and the higher end cameras costing between $800 and $1,200," Shreeve stated.
Chase added that the cameras being looked at are a digital upgrade since Grandview High School currently has tape cameras. "The high school is still on VHS, and it will be easier and faster to access the time frame with digital ability," he shared.
Another feature the district is looking at is security access through an IP (internet provider). The ability would allow the principals, vice principals and security personnel to access a camera via computer from another location.
Staples highlighted areas of intervention. He said Grandview United has become a community group which has been developing action plans to help with issues such as gangs within the community.
"Action plans are evolving and being fine-tuned. The group has had productive meetings and two to three items have already been implemented," he stated.
The concern he had regarding the group was "...People need to come back to see that the ideas are implemented." He said there are approximately 80 citizens on the mailing list and as many as 50 attended one of the meetings. "These plans cannot just magically happen," he commented.
He also highlighted meetings held every Friday between law enforcement officials, city officials and school officials in which intelligence is shared. "We identify community members who are in gangs and share that information with each other," said Staples.
"One of our challenges is targeting gang member parents to offer them support and education. A lot of them are in denial of their child's involvement in gangs," Staples stated.
"But, one of the things being done is that a Pierce County officer is going to meet with us (the coalition) to help us learn ways to help kids get out of gangs," said Chase.
The city is helping to suppress gangs by increasing police patrols. On Friday, April 13, for example, an emphasis patrol was implemented with an additional 10 to 12 officers on duty. "Their presence helped to prevent gang activity and they watched houses. They even hauled a few gang members away," said Chase.
Chase also noted an incident where Grandview Police Chief Dave Charvet met with some parents who had a child involved in gangs. He received permission to enter their home any time and to remove anyone who was not a resident.
The meeting ended with questions regarding the effects on the taxpayers and whether or not the gang members realize the effect on their families. Also mentioned was concern for funding.
"Do they understand this hurts their families, too. Mom and dad have to pay higher taxes to combat gangs, and little brother or sister can't go to the pool as much because the money is going to combat gangs or clean up graffiti," several city council members voiced their concerns.
Also addressed were steps the city has been looking at to modify the city nuisance codes and implement a curfew based on the Tacoma model.
"They don't like it when we fight back," said Staples. He wanted the school board and the city council to know the aggressive approach has been effective, and he was glad members of the community were not tolerant.