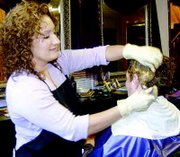 As of Wednesday, April 11, Irma Garcia has been working with her niece at New Dimensions on South Seventh Street.
Garcia started her career after training at Professional Beauty School in Sunnyside approximately six years ago. She moved to Seattle with the idea that she might enjoy living in a more urban area. She found she wanted to return to the Lower Valley in 2005 and began working at Fantastic Sam's.
She said she established a few clients at Fantastic Sam's but decided she wanted a more flexible schedule.
"I didn't like being hourly. I can set my own prices, and I am more available for my kids with the flexibility offered by renting my space here (New Dimensions)," she said.
Some of her clients have found her at New Dimensions. One such client is Gary Hendrickson. He shared, "She's pretty approachable and she does a good job."
Garcia said she really enjoys doing highlights. But, she does "...a little of everything,"
Quite a few of her clients like a basic haircut, however she enjoys the various styles they choose.
"I attend hair shows at least once a year to keep myself updated on the latest styles and trends," she said.
Her main goal is to please her customers and feeling at home in her niece's business makes that easier for her.
"Maricruz (Garza) had been trying to get me to work here for a long time and I finally decided I needed to do it so I could spend more time with my kids," she concluded.