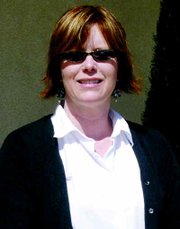 Mabton volunteer firefighter Rebecca Fairchild recently completed her (Emergency Medical Technician) EMT training in Toppenish
She said she had to wait for a year after becoming a volunteer firefighter before she qualified to receive her training due to the expense involved for the fire department.
"I understood that," she stated. "They need to make sure you are going to stick it out before they spend the money to train you."
As to why she wanted to receive the training, she said that approximately 90 percent of the calls responded to by firefighters are aid related. "There are few fires in relation to accidents," she noted.
As a result she felt the EMT training would be invaluable.
"Now, I know what to do when I respond to an aid call," she said.
The training is provided by Yakima County Fire District #5 at Station #9 in Toppenish. It is a three-month training involving hours from 6 to 10 p.m. on Tuesdays and Thursdays and 9 a.m. to 4 p.m. on Saturdays.
Fairchild explained the classes cover two chapters and a test on those chapters each day. "Saturdays are spent with hands-on drills, practicing what we learned," she said.
"The book was brand new because there are so many new concepts in emergency medicine," she explained.
"They didn't cut us any slack."
Part of her studies included determining on-scene care based on the condition of a patient. They check the ABCs (air, breathing, circulation) of a patient first, also known as vital signs.
They administer care to the patient in order to help keep them stable until a paramedic can arrive.
During the training, the teams took turns in the role of a victim and sometimes someone else would come in to allow each of the teams to work as a unified group.
Fairchild said she first became interested in firefighting when her sister-in-law suggested she drive for the forest service.
"I found I enjoyed the forest service work and wanted more training," she stated.
"I was really impressed with the people when I was working for the forest service. It was like a miniature town set up near the fires and they inspired me to continue with firefighting," she said.
As a result, Fairchild joined the Mabton Fire Department to obtain the training she sought.
"I have been equally impressed with the Mabton firefighters since I joined them, and I really enjoy working with them," she noted.
When Fairchild is not volunteering her time with the Mabton Fire Department, she is mom to two children, a wife to a Grandview police officer and a substitute teacher for schools in the valley. She said she is grateful for the flexibility in being a volunteer firefighter because "... If I am at work, I can't be there. But, I enjoy being a firefighter and it gives me an opportunity to pursue all my ambitions."