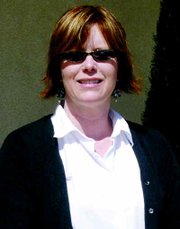 Sunnyside Christian High School is gearing up for its spring production, "Jolly Roger and the Pirate Queen," set to take place this coming Friday and Saturday night at 6 p.m. at the school.
Students have worked towards production of the play for about two months.
The play is about a man and a woman who are seeking a more daring life, and love, and each become pirates, encountering different adventures while they discover what it is they each truly want.
Technical director Laura Berkompas describes the play as a "wildly entertaining" romantic comedy, featuring humor appropriate for all age groups.
The cast list includes Adrian Van Oostrum as Roger Goodman, Danny Van Boven as George, Caitlin Aleman as Sarah Huffington, Jacqui Roberts as Kate, Vanessa Van Boven as Belinda, Andrea Schutt as MaryAnne, Andy Freepons as Lord Hector Huffington, Laura Schrotenboer as Lady Emma Huffington and Marc DeJong as Captain Belvedere.
Cast members playing the parts of Captain Blood's crew include Bert denHoed as Long John Sliver, Leah Bosma as Claude, Elizabeth Friend as Maude, Abby Bangs as Snuck, Hilari Bosma as Sneak, Taylor Gardner as Parrot, Abby Berkompas as Snaggle and Renee Dalrymple as Snoot.
Cast members playing the parts of the Pirate Queen's crew include Kathleen Dolan as Laverne, Kaitlyn Broersma as Shirley, Esther Ramos as Lucy, Erika denHoed as Ethyl, Abby Ingvalson as Louise and Julie Martinen as Thelma.
Bluebeard's crew is comprised of actors Chris Newhouse as Bluebeard, Kelly Newhouse as Smudge, Heidi Haak as Dandy, Jamie Sveen as Candy, Mary Freepons as Kiki, Ashley Haak as Miki, Kristyn Mensonides as Creaky and Doohong Park as Greeky.
Key behind the scenes crew members include Director Beth Kapteyn, Berkompas as technical director, Kysa Finley and Danielle Newhouse, Nick DeJong, Mackenzie Cleveland, Anna Cleveland, Yan Wang, Taryn Sytsma, Jenni Crabtree and Annaka Erickson.
Cost to attend the play is $3 per person and the doors at Sunnyside Christian High School will open at 5:30 each evening.