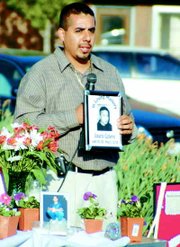 "Your pain is our pain," Antonio Valero of Consejo Counseling and Referral Services told a group of about 30 people yesterday at Sunnyside's Centennial Square.
The gathering was for crime victims and their families to share tears and stories of their loved ones taken from them.
Held in conjunction with National Crime Victims Rights Week, last night's at times emotional meeting was an opportunity to encourage people to seek help when they or their family are victimized by a crime.
"There can be feelings of guilt," Valero said. "You need to be able to share with someone close to you who will listen."
Olivia Paez also works for Granger-based Consejo, and described her childhood growing up amidst gangs and violence. "It was a world I had to slip away from for the sake of myself and my family," she told the audience.
The timing of yesterday's event was emotional for BriAnn Underwood of Grandview, whose father was stabbed to death on April 27, 2006, one year ago tomorrow.
Underwood described how she was initially angry following her father's murder.
She added that with her father gone she appreciates him even more.
Underwood said it is still difficult to see other girls with their fathers. "They're so lucky," she said quietly. "You don't know what you have until you lose it."
Holding a picture of his slain little brother, Alejandro Olivarez still thinks about him now more than two years later.
Olivarez told the group he initially turned to alcohol to help with his grief, and separated himself from other family members, even during holidays.
Olivarez said he's been sober nine months, though he's still haunted by questions about his brother's unsolved murder.
"I have God in my life now," he said. "Talk with others about how you feel. Don't isolate yourself."