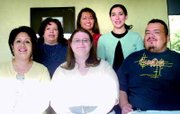 GRANDVIEW - The first graduating class from the Lower Valley School of Massage will be honored this coming Saturday at the Grapevine Inn in Sunnyside at 6 p.m.
The eight graduates have completed one-year of training in physical therapy massage, focusing on rehabilitative massage. Their education included techniques in Swedish massage, reflexiology, trigger point massage, lymphatic release, myofacial massage, deep tissue massage and pregnancy and infant massage.
The students learned the techniques with a health care focus in anatomy, physiology, chemistry and pathology to better understand and diagnose a specific health problem.
Two of the students graduating this Saturday will be Tracy Humphreys of Prosser and Benny Escobar of Grandview.
Humphreys said she feels she has learned a lot and she has had a lot of fun in gaining her new education.
"We have been exposed to rehabilitation therapy and we have learned how to work with injured muscles during the past year," she stated. "Most schools don't teach rehab."
She and Escobar both hope to pursue careers with either a physical therapist or chiropractor.
"We have to pass state board exams first," said Escobar.
They both said taking classes took a lot of dedication and there was more to learning massage techniques than either had expected.
"There's more investment and time involved," stated Humphreys.
Escobar worked for Washington Beef in Toppenish and part-time for Security Mini Storage in Grandview while training to become a massage therapist.
He said, "You have to be willing to juggle your schedule and it can be difficult. I had very little time for my wife and two children."
Does he feel it was worth it? "Yes, I am looking forward to my new profession and would hope to give others the same relief from injury that I experienced when I was in therapy," he commented.
Escobar was the lone male in the class and said it made him feel more masculine. "There aren't many men who choose to work in the field of massage. But, it is another way of treating serious injury," he said.
The two were led to the field of physical therapy massage for different reasons.
"I was run over by a semi and had to have physical therapy. Part of that involved massage. The results were so beneficial that I decided I wanted to help others in the same way," said Escobar.
Humphreys said she pursued physical therapy because of the healing power of touch. "I wanted to help people, especially in nursing homes."
When not learning massage she works as a meter reader for Benton REA. She said she felt being a massage therapist would be something she would enjoy when she is not working for the power company.
"This took more effort than merely a desire," said Escobar. "It is a commitment that is rewarded with the satisfaction of knowing you have done something to help someone else."
&nbsp