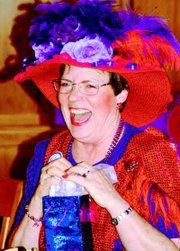 In recognition of National Red Hat Day, the Red Hat ladies clubs from around the Lower Valley gathered yesterday at Snipes Mountain Restaurant in Sunnyside.
Presiding over the gathering was Donna Homer of Sunnyside, "Queen" of the recently founded Lower Valley Blossoms group.
More than a dozen women, all 50 and older according to the Red Hat guidelines, wore their hats and assembled for yesterday's luncheon, representing clubs from as far south as the Tri-Cities.
The national Red Hat Ladies organization began in 1998 when a couple of friends celebrated turning "fiftyish". Inspired by the Jenny Joseph poem, the fun-loving group took to wearing red hats and dressing in purple.
In keeping with the light spirit of the Red Hat Ladies, yesterday's luncheon included humorous contests.
Deborah Clark received the award for the best hat, while Margrett Buchholz was voted as having the best outfit. Betty Brietenfaldt earned the nod as the "best red hatter" for the year.
"We're just having a good time," Homer said of yesterday's Red Hat luncheon and get-together.