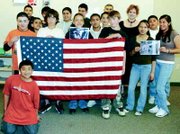 Students in Renae Graton's classes at Sunnyside's Sierra Vista Middle School recently received an American flag that was flown in Iraq.
Col. Chris Owens, commanding officer of Marine Air Group 29, sent the flag to his sister-in-law (Graton) for her students.
Owens is currently stationed at Al-Asad Air Base in Al-Anbar Province in Iraq and flew the flag in his helicopter last March 11.
Graton told her students that her brother-in-law oversees approximately 3,000 troops in Iraq and their main mission is to provide close air support for ground troops and causality evacuation.
He has been there since the middle of January and Graton told her students that Owens and his men take only one-half day a month off, usually a Sunday. The rest of the time they are working, Graton said.
On the half day the troops under Owens' command can call their own they are fed pizza and are able to watch a movie, according to Graton.
Owens is hoping the flag will inspire students, especially those with ties to farm workers. Graton explained to her students that her family and Owens' had grown up working on a farm and know how hard farm life can be.
Reading from a letter Owens had sent with the flag, he told them, "I know how hard it will be for you to achieve your dreams but it's possible," Graton quoted. "Dream big, believe in yourself and work hard."
Graton said the flag will either be hung in a display case with pictures of Owens in the hallway of the school or in her classroom.