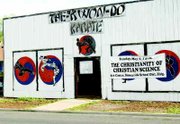 The fact that the City of Sunnyside has declared the Tae Kwon Do building at 610 North Avenue as substandard for human occupancy has many parents and children in the community upset.
City Code Enforcement officials declared the building substandard and dangerous on March 27, citing the existence of the following conditions: inadequate/deteriorated foundation, defective or deteriorated flooring or floor supports, lack of required egress, lack of required minimum amount of natural light, general state of dilapidation and improper maintenance, deterioration of roof structure, the building constitutes a public nuisance, lack of proper water closet and kitchen sink, inadequate exits, lack of adequate heating system and lack of required electrical lighting.
In the letter, building owner Reymundo Ramirez was given 30 days to abate the violations or demolish the building, buy permits to make repairs and to begin the work to make the necessary repairs.
"If I don't do certain repairs to the building, they're going to have it condemned," Ramirez said.
Ramirez has been trying to raise enough funds to save the building. His lowest estimate for repairs was $58,000 and, so far, he's $3,000 toward that goal.
Ramirez and parents of his students contend that Ramirez is providing an invaluable service to youth in the community - fostering respect for authority while building self-esteem.
"My son began taking classes in February of this year," explains parent Leasa Simard. "He was a typical 10-year-old, experiencing preteen emotions, feeling insecure, inferior and emotional.
"After only a few lessons, we began to notice a change in him. He's now a different person."
Ramirez says, "I strive to get the kids to where they can shoot for something (good) and respect others."
Ramirez doesn't charge much for the martial arts lessons, only between $10 and $15 a month. And if an at-risk youth can't pay, Ramirez lets the student work it off.
"My main goal is to basically get kids off the street and I'm the only one. I feel like I'm a funnel for kids, and if they get that funnel taken away from them, there's nothing there for them," Ramirez said.
Each class opens with an oath to be faithful to government, seek perfection of personality, respect others and maintain masculinity without coarseness.
As Simard puts it, the kids learn "power with restraint and teamwork."
Now, Ramirez and Simard say, help is needed to save the building.
"We need to work together to keep this school going," Simard said.
Ramirez said, "I just pray to God that something is going to happen, something great."
Donations to save the building can be made at Lower Valley Credit Union, care of United Tae Kwon Do, Ray Ramirez.