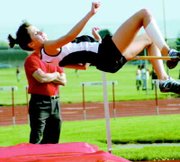 The home track was kind to the Sunnyside boys and girls track teams yesterday in dual meets against Kennewick and Hanford.
On the girls side, Sunnyside's Jordyne Jaquish smashed the school high jump record with a mark of 5-3 for first-place honors. Just last week she had tied the school mark of 5-2.
"She set that mark against some very good competition," observed Coach Robin Bryson.
Jaquish also set a personal best time of 51.58 in the 300 hurdles to finish in first place.
In addition, the junior anchored the Lady Grizzly 1,600 relay team that earned a second-place ribbon with a personal best time of 4:33.32. Other members of the relay squad are Teresa Ramos, Brittany Messmore and Audra Hays. The relay was won by Hanford in a time of 4:27.37.
Messmore continued to show improvement in the 1,600, grabbing first-place honors with a personal best time of 5:37.99. Messmore also took the top spot in the 3,200 by running a time of 12:38.14.
In other running events, Ramos and Hays were second and third in the 400, both recording season best times of 64.78 and 65.39, respectively. Ramos also set her season's best time in the 800 to take first in 2:36.97.
As they have all season, the throwing events were also a strength for the Lady Grizzlies.
Sunnyside's Maria Ramirez, Claire Schilperoort and Molly Dolan were second, third and fourth, respectively in the discus with throws of 92-11, 86-9 and 84-11.
It was a 1-2-3 sweep in the shot-put for the Lady Grizzlies. Carly Dahlstrom took first-place honors with a personal best mark of 33-03. She was followed by teammates Schilperoort and Sarah Kilian, who fielded second and third-place marks of 31-6 and 31-2.
Schilperoort bested the field in the javelin with a first-place throw of 110-11. Teammate Brenda Barrios was fourth in the same event with a mark of 96 feet.
As a team, the Lady Grizzlies tallied 65 points to Kennewick's 83. In addition, the Sunnyside girls lost to Hanford 87-61.
The Sunnyside boys split their dual meets, defeating Kennewick 82-51 and losing to Hanford 96-48.
Speaking of boys competition, Sunnyside's Roy Haringa won the 110 and 300 hurdles with times of 16.79 and 43.47, respectively. Haringa's time in the 300 was a personal best.
Haringa also anchored the 1,600 relay team that finished in first place with a season's best time of 3:40.38. Also participating on the relay team were Kennedy Sarmiento, Sterling Scott and Gracen Gonzalez.
Scott and Gonzalez went one-two in the 1,600 meters with respective times of 4:39.19 and 4:48.03. Both times were personal bests.
Victor Rios tied for third in the 100 meters with a personal best time of 12:03. Rios also finished third in the 200 with a personal best time of 24.38.
The parade of personal bests continued with Gilberto Villalobos, who claimed second-place honors in the 800 with a time of 2:13.6.
Jacob Rogers was fourth for Sunnyside in the 3,200 meters with a time of 10:44.14.
Also for the Grizzlies, Jaime Sambrano and Tony Mendez finished fourth and fifth, respectively, in the long jump with jumps of 18-5.25 and 18-3.25.
Sunnyside's Brice Rinehold was a double winner in the throwing events. He was first in the discus with a throw of 122-5 and in the javelin with a mark of 142-9. Rinehold also claimed second-place honors in the shot-put with a toss of 40-11. "Brice had a solid day," Bryson noted.
The coach also praised the high school staff, parents and volunteers for helping to pull off a successful home meet on the Sunnyside track.
Bryson also looked ahead, especially with all the personal and season marks-not to mention a school record-set yesterday.
"We're at that point in the season where we're trying to work on improving those marks," she said. "We're trying to get as many kids as possible into Districts."