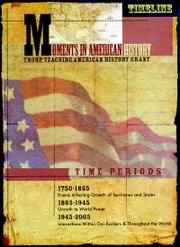 A grant application written three years ago by Thorp High School teacher Tom Christian has led to a history-making effort in teaching U.S. history.
The result is a $900,000 federal grant that led to the development of the DVD, "Moments in American History". The effort required a partnership between Northwest universities and five Central Washington school districts: Thorp, Easton, Kittitas, Toppenish and Wahluke.
As a classroom teaching tool, "Moments" does its job very well.
Using a menu illustration fashioned after 19th century newspaper headlines, "Moments" weaves a tapestry of 35 episodes lasting 90 seconds each that combines comments from history professors with archival pictures and film.
Fans of the PBS series "American Experience" or the Ken Burns documentaries will love the seamless transition in touching on issues and people of importance in U.S. history.
Each episode is followed by a review question for class discussion.
The segments are divided into three periods of U.S. history: 1750-1865, 1865-1945 and 1945-2005.
One of the few complaints about the presentation of historical eras is that the segments are not listed on the menu in chronological order.
The 1900 Presidential race between McKinley and Bryan for example is listed on the episode menu after a discussion on "emerging industries" during World War II.
A bone could also be picked in noting that one segment is devoted to South Africa's apartheid issue, but none on the Civil Rights movement in the U.S. during the 1950s and 60s. The DVD's subject, after all, is "Moments in American History".
Without focusing too much on what the DVD doesn't present, it would have been nice to see a segment or two on topics related to the U.S. revolution or Constitution, for example.
The closest we get to this country's founding is a discussion of Thomas Jefferson's approach to integrating Native Americans and Alexander Hamilton's contributions to the U.S. economy.
There are moments when political correctness is evident, as in a discussion describing Andrew Jackson as a "villain". But in an even-handed way there are also segments that feature prominent professors who are unafraid to tackle some touchstones.
In a discussion on Sacagawea, for example, a professor relates how the Native American woman was not as vital to the Lewis and Clark trek as early suffragettes portrayed her. "She was a help, but she was not indispensable," he says.
Several of the segments bring insights for history fans of all ages.
Teen culture, for example, did not first rise to prominence in the 1950s, one segment notes, but during the 1920s.
Another segment highlights how women in some of the first westward expansion tried to bring pianos or other reminders from home, only to have to discard them along the way. One answer to keeping some remnant of their roots was to bring seeds from their favorite plants to sow when they reached their new home.
Then there is rarely seen film footage of pivotal figures and events in U.S. history, such as Thomas Edison or the grand opening during the 1930s of Radio Music Hall in New York.
Clocking in at about an hour in length altogether, the images and commentary in "Moments in American History" have digitally preserved for students and educators revealing tidbits of our nation's history.
And that makes this a very memorable DVD in its own right.
Unlike most DVD or CD reviews, you can't run out and buy a copy of "Moments in American History", but you can find out more information on obtaining a copy by calling history teacher Tom Christian at Thorp High School, 509-984-2107, ext. 147.