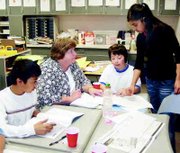 GRANDVIEW - After 16 years as Harriet Thompson Elementary School Principal, Connie Davis is slated to retire at the end of this school year.
But her 35-year career in education won't be completely over. Davis plans on working for the Grandview School District in whatever capacity she's needed.
"I'm going to be involved in new teacher recruitment, new teacher training, assisting with the pre-school program and assessments.
"Just (helping) wherever I'm needed," Davis said.
Davis's husband retired three years ago, although he works part-time for the Sunnyside School District.
"We've been waiting for me to the same thing," says Davis, who enjoys traveling and golf trips. She's looking forward to not having to rely on the School District calendar to enjoy such endeavors.
What will she miss the most? Without skipping a beat, Davis says, "The kids. And I've been very fortunate for these 16 years at Harriet Thompson. I've had excellent staff, excellent kids. They just made my job easier. The parents are great here, too. They're all totally team players.
"The new principal is going to be extremely lucky. It's kind of like your dream job."