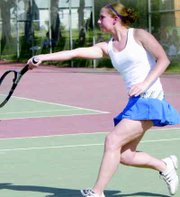 GRANDVIEW- The Grandview High School tennis team played rival East Valley High School this past Friday.
The Grandview boys claimed a 4-1 victory, and the Lady 'Hounds fell to the Red Devils 5-0.
No. 1 singles player Rogi Fajardo defeated Coalby Valicoff of East Valley 6-3, 6-4.
In boys doubles play, all three matches were won by the Greyhound netters.
Marco Diaz and Nick Saldana, the No. 1 doubles team for Grandview, handed Jacob Thiessen and Dustin Martinez of East Valley a 6-0, 6-1 loss.
The Greyhounds' No. 2 doubles team of Raymond Cantu and Gabe Contreras handily defeated Dilbar Chhokar and Eric Gorgholthaus 6-0, 6-0.
The No. 3 doubles match was won for the Greyhounds by forfeit.
The lone loss for the Grandview boys came at the hands of East Valley No. 2 singles player Grant Wilson, who defeated Edgar Candido 7-6 (4), 7-5.
The win over East Valley improved the Grandview boys' league record to 3-6, 4-6 overall.
The Lady Greyhounds were swept away by the Red Devils' girls team.
In the No. 1 singles match-up between Miranda Shreeve of Grandview and Casie Snyder of East Valley, Shreeve was outdone 6-1, 6-1.
Grandview No. 2 singles player Rosalinda Godinez was also defeated 6-2, 6-0 by Katie Wilson of the Red Devils.
In doubles play, No. 1 players Christine Penwell and Sydney Mottice lost 5-7, 6-4, 6-4 to East Valley's Haley O'Hara and Jaclyn Simmons. No. 2 players Katie Butler and Laura Assink of East Valley handed a 6-3, 6-4 loss to Danika Martinez and Kyla Leyendekker of Grandview. Lady 'Hounds No. 3 players Liz Aloccer and Tania Valdez' 6-3, 6-3 loss to East Valley's Karlee Harris and Valerie McCafferty was also felt by the team.
The Lady Greyhounds fell to 4-5 in league play, 5-5 overall.
Grandview will play Wapato tomorrow (Tuesday) at home.