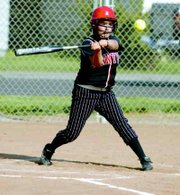 The Sunnyside fastpitch team picked up two non-league wins last Friday, beating the Davis Pirates 16-4 and 15-1.
Sunnyside Coach Ralph Mendoza didn't have any stats available but said his team did well, coming around for the two wins.
Brittany Amaro pitched the first game with Victoria Ramos catching. Amaro allowed only three hits in the 12-run win.
The Grizzly defense held up too, committing only three errors in the first game. Sunnyside scored its 16 runs on just eight hits.
Pitching in the nightcap, Sammi Garcia allowed only two hits and she received plenty of run support as the Grizzlies racked up 18 hits in the game. The defense committed just one error.
Mendoza recalled that Sunnyside's Sarasa Partida went 4-for-4 on the day and Kassi Luther, Kassi Guillen, Marina Martinez and Kayla Rollinger all had multiple hits in the two games played.
The Lady Grizzlies (0-8, 4-12) will get back to league play Tuesday, May 1, when they travel to Southridge for a doubleheader beginning at 4 p.m.