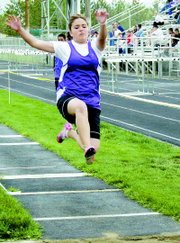 MABTON - Sara Vazquez shined in three events at last Thursday's Mabton Track and Field Invitational. The Lady Viking competed in the 3,200-meter run, the 1,600-meter run and the 800-meter run, earning victories in each.
"She finished (the 3,200-meter run) with a time of 12:20.69, ahead of Holly Allen of Riverside Christian," said Mabton High School Track Coach Scott Sexton. Vazquez's time was almost two minutes ahead of Allen's 14:15.89.
"This is the first time Sara has run this race during the season and she was fantastic," beamed Sexton.
In Vazquez's second victory, the 1,600-meter run, she outran runner-up Ana Rodriguez of Columbia Burbank with a time of 5:34.31. In her 800-meter run first place showing against her rival from Columbia Burbank, Melissa Barcroft, Vazquez finished in a time of 2:31.35.
"This (the 800-meter run) was an exciting race as both girls pushed each other," said Sexton, explaining with 100 meters to go Barcroft had the lead. But, Vazquez pushed harder to become the victor.
The Mabton High School girls track team continued to score well, earning a tie with Riverside Christian High School for first place overall. Runner-up at the meet was Lyle High School.
Another tight event was in the boys shotput. Robert Marquez and Eli Perez, both of Mabton, have been trading places in the event. But Perez edged Marquez with a personal best throw of 44-6.5. Marquez's distance was 44-5.75, also a personal best.
"These distances are exciting for the boys because they will need throws like these at District," Sexton stated.
Marquez also earned a first place showing for the Vikings with his 122-1 throw in the discus. Perez threw a third place distance of 116-2 in the same event.
"It is exciting to see the boys challenge each other in the meets and every day in practice. It will help both boys achieve great things at the end of the season," commented Sexton.
Another top-finish from Moises Gutierrez of Mabton helped the team maintain momentum. He earned a victory in the triple jump with a leap of 38-9.5. His closest competitor was Jeromie Mason of Klickitat, who leaped 37-11.
Gutierrez also had a runner-up finish in the long jump with a distance of 18-0.25. His leap was a mere .75 inches behind Lyle's Joey Nelson.
Sexton said of the jump, "This was an exciting event because both athletes were so evenly matched."
The Viking boys team finished the meet with a second place showing.
&nbsp