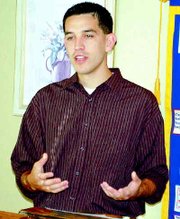 The Sunnyside High School math department crunched the numbers and decided it was time for a change in curriculum.
James Wise, a 1995 SHS grad, is the head of the high school's math department and described for Sunnyside Kiwanis Club members Wednesday morning some of the numbers that led to the change in teaching tools.
Wise noted that only 27 percent of Sunnyside High School sophomores passed the math portion of the WASL last year and estimated only 20 percent of SHS grads go on to college within their first year out of high school.
"The main push is getting students to succeed at a higher level," Wise told Kiwanians assembled for a breakfast meeting at the Sunny Spot Restaurant in Sunnyside.
Another factor that figured in the decision to change math curriculum is that Wise says the high school offers only one calculus class and two pre-calculus classes. "That's not very many for a school of 1,500 students," Wise observed. "We don't have as many advanced students as we could have."
The new curriculum to be implemented this fall will feature more hands-on "discovery" opportunities for students to experience math lessons by doing various activities.
It's a switch from the lecture format previously used which, Wise says, is a good way to relay information but doesn't necessarily reach all students at all levels of math interest and ability.
Wise did note that the new program is still fairly new and has only been primarily utilized in western Washington. Wise also noted there have been some complaints with the "discovery" curriculum in that students might miss the basic information they need.
The math program at Sunnyside, Wise pledged, will still incorporate some lecture in with the discovery activities to ensure that students learn the concepts they need to further their math education.
Wise said he hopes the new curriculum will provide increased interest and abilities in math.
That, in turn, will help more students excel and pursue advanced placement math courses that can be used for college credit.
In three or four years, Wise said he'd like to see 250 students taking advanced placement math courses.
"We want to promote growth in the number of students who are succeeding in math," he said.
John Fannin/Daily Sun News
James Wise is head of the Sunnyside High School math department and described for Sunnyside Kiwanis Club members Wednesday morning new math curriculum to be implemented this fall.