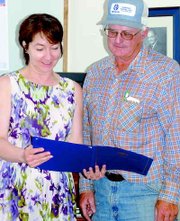 Not once since the Port of Sunnyside was formed in 1964 has there been a single audit finding issued by the state of Washington, an amazing feat that earned the entity recognition this week from the State Auditor himself, Brian Sonntag.
Audit Manager Susan Remer from the Yakima office hand delivered the letter from Sonntag to Port Commission President Arnold Martin yesterday (Tuesday).
"This is a very big deal," Remer said. "I have never presented one of these for this length of a time period."
The news gets even better. During the audit exit conference, Remer informed Port staff that they just passed their 42nd audit without a finding.
Amber Hanson, Port Executive Director, said that in the past 42 years there's never even been so much as a management letter issued, which she describes as a "slap on the wrist" for accounting issues.
In his letter, Sonntag said that the absence of audit findings reflects the Port's dedication to sound financial operations and reporting.
In the past, the Port has had recommendations from auditors, which Sonntag said the Port responds constructively to.
"The Port has also taken positive steps over the years to protect public dollars by assessing risks related to waste, misappropriation and abuse and taking actions to prevent or detect such issues in a timely manner," Sonntag wrote.
He also praised Port operations and staff.