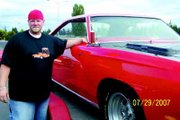 TACOMA - For the last six years Sunnyside's Dusty Van Hollebeke has been working on his 1969 red Plymouth Roadrunner, restoring it as time allowed.
"When I first bought the car it was complete but pretty much a project car," Van Hollebeke said. "Working on the car and restoring it has been kind of a hobby."
His hobby earned him a first place finish in the Under Construction category at the fifth annual Tacoma Dodge All Mopar Show and Shine car show held last week. Tacoma Mopar Unlimited sponsors the event. Mopar stands for motor parts and accessories and is only used for Dodge, Chrysler and Plymouth vehicles. This is Van Hollebeke's first time entering a car show.
It happened almost by accident. He has had a lot of help restoring his car and his cousin, Ken Myers, who owns Jetson Electric, had the car for most of the past year doing all of the wiring work. His cousin was able to help Van Hollebeke keep the price of the work down.
When Van Hollebeke was on the west side of the state to pick up his car after his cousin finally finished the wiring, he heard about the show and decided to enter it. The Roadrunner had to be entered into the Under Construction category because the car isn't completely finished. It's something Van Hollebeke plans to remedy by the end of this month.
The Roadrunner's engine is original, a big block 383 with a pistol-grip 4-speed manual transmission. Every single wire has been replaced. The car now has power windows, power locks, a power trunk and headlights with sensors in them so they automatically turn on when it gets dark. Wayne Linder Jr. of Sunnyside painted the car for Van Hollebeke.
"It still needs the final assembly," he said of his car. "It needs carpet, head liner and bumpers, then it will be complete."
Van Hollebeke walked away with a first-place trophy from his first car show but now he has the bug. "It was cool," he said, explaining he next plans on entering the Sunbust All Mopar Show & Shine Car Show in Graham, Wa. in late August.