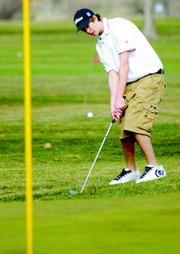 TACOMA - Sunnyside's Justin Bos wrapped up 2007 WJGA summer play by snaring a "Top 10" finish at the State tourney last week.
Bos, who'll be a senior at Sunnyside High School this fall, carded rounds of 75-75-77 at last week's Washington Junior Golf Association State Tournament. His three-day, 13-over-par 227 score earned him a 10th place finish in the boys 16/17-year-old age division.
Chris Williams, who hails from Moscow, Idaho, was the top finisher at the WJGA State tourney. Williams shot an aggregate 4-under-par 210 over the course of the three days.
State action opened Wednesday, July 26, at Fort Lewis Golf Course. Bos posted a 3-over-par 75 on the first day, on front and back side scores of 39-36.
The Sunnyside golfer described his opening round as uneventful. "Four bogeys, one birdie, the rest pars," Bos said.
The final two days of the State tourney played out at Tacoma's Fircrest course...a par-71, relatively tight track that is carved out of the woods and stretches out about 7,100 yards.
"You can't miss the fairways," Bos said, explaining that more often than not golfers are better served using 3-iron off the blocks rather than driver.
Thursday at Fircrest, Bos kept his ball in play for the most part and glided around the course with a decent round of 4-over-par 75. Actually, the Sunnyside linkster was poised for a spectacular round, as he hit the clubhouse turn just one-over with a splashy 36 on the front nine. Bos ballooned slightly on the back side, however, absorbing a 3-over 39.
Despite the back nine hiccup, Bos easily made the cut for day three action. "Only the top 20 and ties got to move on to Friday," Bos said.
In his final round at Fircrest, Bos got a bit over-aggressive with his longer clubs and too often found himself having to lay up out of the tree line.
"Too many punch-outs, plus I had three or four 3-putts on Friday," Bos said, explaining the 41 he stumbled to on the front side. To the Sunnyside golfer's credit, he righted the ship, so to speak, on his final nine holes of play, finishing with an even-par 36 on the back side. That gave him a 6-over-par 77 for the day, good for 10th place honors overall in the older boys division.
Officially, Bos is done with WJGA competitions this summer, although today and tomorrow (Friday) he is playing at the Banner Bank Invitational, which is only open to WJGA golfers who qualified for the District 4 tourney.
"Banner Bank sets it up as a way to relax and play some fun golf to close out your season," Bos said.