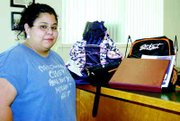 GRANDVIEW - Recognizing the fact that many children can't afford school supplies and backpacks, Christina Reyes has decided to do something about it.
Reyes, explaining there are five children in her family, said, "When we moved to Grandview from Mexico, we didn't have school supplies. The Family Resource Center helped us," she said.
As a result, Reyes has always appreciated the gift and felt other children should be helped in such a way.
She began thinking of her high school senior project last year. "I helped a lot of my friends, who were seniors last year, complete their senior projects," said Reyes.
Working on those projects spurred the process of deciding on her own project due this coming school year.
"I remembered the help I received and thought there are a lot of children like I was, who need backpacks," Reyes stated.
She proposed the idea of collecting backpacks and school supplies to Mrs. Linda Phillips at Grandview High School. "Mrs. Phillips provided me a list of the supplies the children are going to need and businesses that I could contact," Reyes commented.
She began making phone calls and sending letters to area businesses, trying to elicit community support for her project.
"It was really sad when they just hung up on me, but a lot of the Hispanic businesses have responded ...Maybe because they realize the need of the children I will be helping," said Reyes.
Some of the businesses have been extremely helpful in the endeavor. Of the 11 backpacks collected thus far, 10 of them were donated by Grandview Lumber. "I was surprised because they are a building supply company, not an office supply company. But, my mom encouraged me to contact them," Reyes remarked.
She said the Grandview School District Resource Center will be determining the children who are most in need of the backpacks and supplies she is collecting. "We will distribute them together," she noted.
Businesses in Sunnyside and Grandview have been contacted, according to Reyes. But, the response has been disappointing.
"I would ultimately like to collect more than 50 backpacks and the supplies to fill them," she said, "Because I know a lot of kids could really use them."
She added, "I am doing this because there is a saying that is something like, 'For everything you give, you will get back'."
Those interested in helping Reyes with her project can contact her at 830-3286. She is still actively seeking donations.