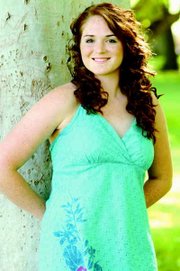 Ever since Molly Dolan was a little girl, she has wanted to be crowned Miss Sunnyside. She remembers proclaiming to her pre-school teacher, "I'm going to be Miss Sunnyside when I'm old enough to be!"
Come September, Dolan will take a shot at it.
But just because it's been a dream for as long as she can remember doesn't mean there aren't other reasons why Dolan's pursuing the title.
"I want to be Miss Sunnyside because we get to meet a lot of important members of the community and it would be a great experience. I would also be able to improve my speaking ability," she said, adding it will also help her to loosen up when speaking publicly.
If selected as Miss Sunnyside, the born and raised Sunnysider's goal is to beautify the city by working with the Chamber of Commerce. "If I'm crowned, we're going to do a few beautification projects throughout Sunnyside," she said.
"The way Sunnyside looks represents everyone in town and I want to make Sunnyside look as good as possible."
Her ideas to beautify Sunnyside include planting more trees and painting over graffiti.
In the talent portion of the September pageant, the Sunnyside High School student plans on singing the song "Popular" from the Broadway musical "Wicked." When asked about her vocal experience, Dolan said that she has participated in drama at school. "That's about it, besides singing in my shower, of course," she joked.
Is she nervous? "I'm nervous at the beginning, but as I get going, I get more comfortable. So I think I'll be fine."
Dolan's favorite classes are art and English. When it comes to art, Dolan credits her freshman art teacher, Saul Martinez, with providing her so much variety that he "expanded" her already blossoming creativity. Dolan said that when she's working on a creative project, she tends to be a perfectionist. She also loves to read, hence the passion for English.
Dolan's also got a passion for sports. "It's something I've always liked doing- being part of a team. Then there's also the individual positive aspect of doing well," she said. When it comes to teamwork, Dolan's philosophy is that everybody works together to accomplish something competitively, but it's also important that individually, team members serve as positive role models to young girls.
When she was a sophomore, Dolan was named a Mid-Valley League volleyball first league honorable mention. "I was pretty happy about that, but at the time I knew my team helped me get there."
Dolan's love for animals could likely lead her to a career in veterinary medicine. One thing is certain, Dolan's got her eyes on attending a four-year university.
Dolan, the daughter of Tom and Sharon Dolan, said there's plenty to be proud of here in Sunnyside, including the scenery and the fresh agricultural bounty.
Dolan's sponsors include Catalina's Hair Care, Toothcrafters Dental Laboratory, Orange Dairy Service and Natural Selection Farms.